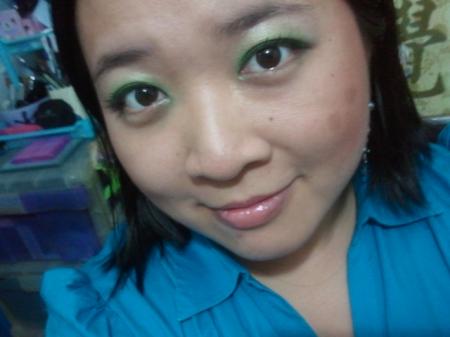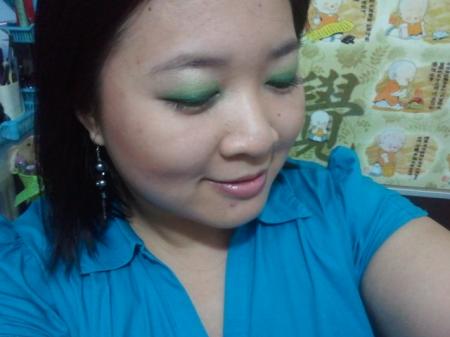 Hi everyone~
As I am always putting on makeup to work and I have been using my work makeup looks as LOTDs thus far, an idea just popped into my mind to also consider only using 1 palette for a particular week.
This way, it will ensure that I uses all colours in the palette and not just my faves. Also, I hope to inspire some of you who have not ventured into other colours, to consider trying on more colours, even for work~
Hence, here you have for the start of this series, I am using my elf Little Black Beauty Book (cool palette) for the whole of this work week's looks!
Look of the Day: 30 Jan 2012 (Monday)
Face
- Skin79 Absolute Total BB Cream
- LA Colors Mineral pressed powder, Fair
- elf Healthy Glow Bronzer, Sun Kissed

Eyes
- Jordana Eye Primer, Nude
- elf The Little Black Beauty Book, Green shadow
- NYX Jumbo Eye Pencil, Rock Mountain Green
- Jordana Best Lash Extreme Volumizing Mascara, Black

Lips
- Noir Blanc Lip Gloss w/shea butter, B433 (fr sasa cosmetics)

This light green colour gives my work week a refreshing start! It's not too dramatic and I think it is suitable for those who have cooler tone skin or neutral tones.
If you are unsure of the tone of your skin (warm, cool or neutral), try applying bright orangey red / blue or green on ur lids, one on each eye and see which colour looks best with your skin tone even when u never blend it out.
If you look better in Orangey red, your skin has a warm undertone, and colours that has a reddish/orangey tinge to it will suit you better.
If blue or green makes you look bettter, simply means that your skin has cooler undertones and colours with bluish or greenish tinge are your best choices.
When both of the above colours suit you, good news is, you have neutral under tones, all colours are yours to play with!!
Let me know if you have more questions by leaving a comment below.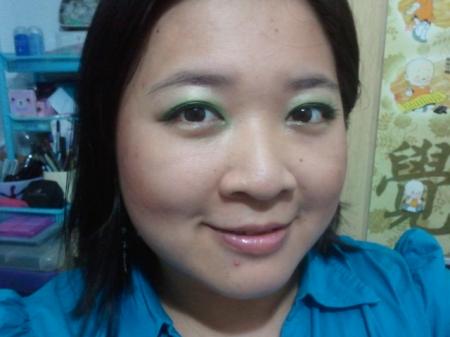 What do you think about this look?
Will you give it a shot?
More shots of this look here.
Cheerios
FS.Rain