YAY~ It's the start of a new week, hence a new palette shall be used for the whole of this week's office / work makeup series!
The featured palette for this week is... *drums roll* IS'MINE Professional Makeup Kit.





It is a 78pc makeup palette that contains:
- 60 eyeshadows
- 12 lip colours
- 5 blushers
- 1 contour/bronzer
- priced at SGD 25/- from The Mimosa Garden Store in Gmarket.
The unique thing about this palette is, it is joined by a set of 6 small palettes which can be popped into a smaller travel casing provided. If you are familiar with elf's newest palette or sephora's palettes, you might find this concept similar. All the products are joined up into a big palette. Yet can be detached into smaller palettes for easy keeping or on-the-go touch-ups / travel.
Ok, back to our main topic for this blog entry...
Look of the Day: 06 Feb 2012 (Monday)
Face
- Skin79 Absolute Total BB Cream
- elf Healthy Bronzing Powder, Sun Kissed
- MAC Blush Ombre, Vintage Grape (will post up a picture of product later)
- L.A. Colors Mineral Pressed Powder, Fair
Eyes & Brows
- elf eyelid primer, Pearl
- IS'MINE 78pc Palette, small palette with bronzer/contour powder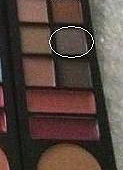 - NYX Doll Eye Volume Mascara, Black
- Daiso retractable brow pencil, Black

Lips
- SilkyGirl Gloss-on lip colour, Cool Pink
As this palette which I am using for this week has more neutal shades or what you'll find as every-day colours, I believe this series shall be more 'user-friendly' for most of the Office Ladies (OL).
Will you be trying out this look?
Cheerios
FS.Rain