For this look, I've managed to use all of the eyes, cheeks and lip product from this small palette from IS'MINE Professional Makeup kit. I will refer to it as IS'MINE 78pc palette.





Face
- Skin79 Absolute Total BB cream
- L.A. Color Mineral pressed powder, Fair
- IS'MINE 78pc palette blush (orangey-coral)

Eyes
- IS'MINE 78pc palette shadows
- Jordana eye primer, Nude
- Jordana Best Lash Extreme Volume mascara, Black

Lips
- IS'MINE 78pc palette lip colour (fuschia pink)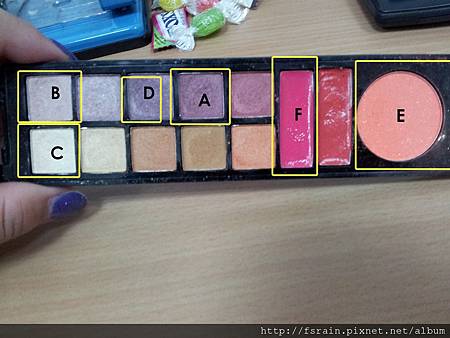 This time round, apart from just circling the colours/shades that were used, I have labelled them with alphabets for your reference as to the sequence of when the colours were applied, from Eyes > Face > Lips.
What are your thoughts? Will you be trying out a similar colour combination?
Cheerios
FS.Rain