Official website: www.maybelline.com
Singapore Facebook Page: www.facebook.com/MaybellineSG

Product Information
Product Name: Maybelline Volum'Express The Colossol Diamonds (Diamants) Limited Edition
Also known as: Maybelline Volum'Express The Magnum SuperFilm Mascara (also available in Waterproof version) in Singapore/Asia
Size/dimenions: 11cm x 2.2cm (Length x Diameter)

Contents Volume: 0.31 Oz / 9.2ml

Code & Colour: #20 Diamond Black

Price: SGD 9.90 - 10.00 + Shipping fees range from min. SGD1.00 - 5.39 (in Gmarket) / SGD19.90 (The Magnum in local stores)

Where to buy: Gmarket , Watsons' & Guardian Pharmacy (for local version)

Product Feature(s) from Gmarket Seller:

*~*~*~*~*~*

My thoughts: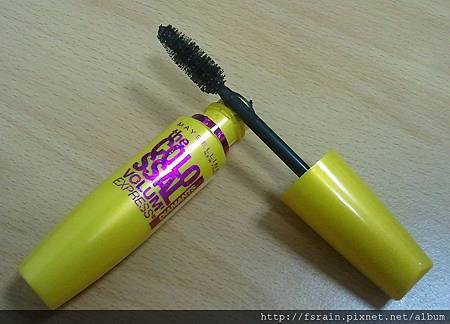 Initially I thought that I have gotten the US Version of The Magnum Mascara which was a hot favourite here in Singpore. When the item arrived and as I was taking shots of it.. then did I realised that Ive gotten something which we do not have it here. It was also a limited edition item!!
My first time using it, without having tried the local version, was sort of a disappointment. I find that the formula was a little too liquidy/wet and it was difficult to volumize my lashes. The bristles were so huge and being in a rush (this is my fault for not trying this out over weekend/when not in rush), I kept staining my lids with this mascara and it makes me very frustrated that the formula felt thin and wet that it stains the lids easily.
Despite a failed first-try at the item, I was undeterred. I used it again the next day. This time, I allocated more time to apply mascara, which was a good move. Coz with patience, time and handling with care (huge bristles and wet formula), I was able to apply multiple coats of it, about 3-5 coats without letting it dry off completely between coats.
Without being in a rush, I was also able to notice that this mascara applies light. Meaning that it does not clump up the lashes to make them thick. It was able to coat EACH and EVERY SINGLE strand of my lashes and thicken each strand to make it look very defined and very volumized. By light I also mean that it does not weigh down my lashes. If the mascara's holding power is not good enough, before the end of the day, my lashes would have "straightened" themselves and uncurled to a drooping position pointing downwards.
The Colossol Diamonds mascara was able to hold the curl, keep it light and clump-free, and makes it appear very fluttery! Not to mention that it keeps the lashes feeling soft and hence when removing them, it does not feel as though they are pricking your skin.
Although it is not waterproof, it managed to withstand my super teary eyes and only notice slight smudge of the mascara on my fingers/tissue (when I try to remove excess water from my teary eyes) after several "dabs".
As it is not waterproof, removing it after the end of the day was very easy, which is also something I greatly appreciate as I do not wish to tug on the skin around my eye areas too much now that age is catching up, skin around my eyes is no longer as firm and supple as before. =.=
Lastly, just wish to share with you that this mascara being the Diamonds version of The Colossol, it does contain very fine/tiny sparkles in the mascara, so when you apply it to your lashes, you'll be able to see the bling-bling effect as you blink your eyes or from different angle.
With that, I can conclude that this is a mascara capable of:
- Defining thin/sparse lashes
- Volumize and Lengthen your lashes
- Water resistance and easily remove with water/normal makeup remover
- Holds curl very well
- Keeps lashes soft and fluttery
I highly recommend it given its above functionalities, price and content capacity and will re-purchase this when mine runs out.
Till the next review, Cya~
Cheerios,
FS.Rain