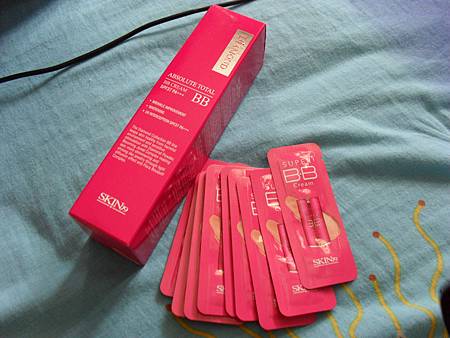 Official website: http://www.wizcozstore.com/ / http://www.skin79.com/eng#
Singapore Facebook Page: www.facebook.com/skin79singapore

Product Information
Brand: Skin79 (Natural Science Skin Solution)
Product Name: Absolute Total BB Cream SPF37 PA+++
Size/dimenions: 11.7cm x 3.7cm (Length x Diameter/Width)
Contents Volume: 40g

Code & Colour: N/A

Price: SGD 15 - 24 + Shipping fees ranging from min. SGD1.00 - 5.00 (in Gmarket.Qoo10) / SGD35-40 (in local retail stores)

Where to buy: Gmarket.Qoo10 , Watsons' & Guardian Pharmacy and all other beauty chains retail outlets

---------------------------------------------------------
My thoughts:
I was quite suprised by the coverage (light to medium buildable) as the texture was slightly lighter than the Hot Pink Super+ BB cream, which was the first BB cream which I tried from Skin79, yet better than the Hot Pink one in the sense that it has more of a natural and glowy/brightening finish as compared with the Hot Pink one which has a more greyish tone and not as brightening as the Absolute Total. Before getting the full size of this BB cream, I have actually tried the Diamond Prestige BB cream in soft pink, but find it too glowy/shiny and made my combination skin looks more oily after half-day at work, hence opted to try this out, which is also part of the Diamond series that aim to bring out a natural glow in the face.
It took me several months to finish this full size product and am glad that I tried it out as it is VERY easy to spread and blend into my skin, at times when I felt that my skin is feeling dry, I don't even need to set it with powder. The best part of this product is its natural finish, which does not look cakey even after hours at work. It is not the best in oil-control as I do see the shine seeping through after 6 hours or so along my T-zone, but the rest of my face remains fresh and slightly dewy and brightened.
I would have repurchase it if I haven't had my interest in trying out so many other brands of BB cream from the Korean cosmetics industry.
I believe, in the very near future, more or less after I had enough of trying out new BB creams, you'll see it in my daily routine once again!
As mini reviews were meant to cover the most important aspects of the product experience, I might have missed out some sharing points, which you could always leave me a message in the comment box below and I will get back to you as soon as possible.
For faster response to your queries, I can be reached via the following means:
LINE chat | fsrain.sg
Facebook | https://www.facebook.com/FSRain.SG
Google+ | https://plus.google.com/b/106108508823287554975/106108508823287554975/posts
Twitter | https://twitter.com/FSRain
That's all for now, see you again in the next review coming up real soon!!
Cheerios
FS.Rain