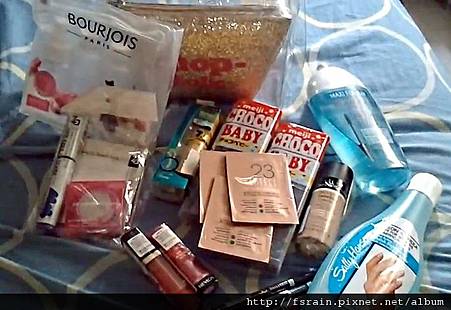 Weeee~
Yet another sales event with a handful of brands running buy 2 get 1 free and several other having 24+5% discount.

FYI - 24 + 5% off means its 24% off your item, then the nett - 5%. Not an upfront 29%.. So compared to the most recent Passion card member event which has straight 29%, this may not be as attractive. But several items has a much reduced price which is around 40%-70% discount.
Anyway, here's what I've gotten:
1) Meiji ChocoBaby (Large bottle) @ SGD4.90 x 2pcs
2) Playboy Body Spray for Men Buy-1-Get-1-Free (for my bro) @ SGD6.50
3) Sally Hansen Acetone Free Nail Polish Remover for Sensitive & Artificial Nails @ SGD4.33 (Originally SGD6.00)
4) SilkyGirl High Definition Gel Eyeliner in 01 Intense Black @ SGD9.31 (Originally 12.90)
5) ZA Dolly Eye Set A (Blue Wide Eye Mascara + Glitter Eyeshadow) @ SGD10.00
6) Revlon ColorBurst Lip Butter in Lollipop @ SGD11.48 (Originally SGD15.90)
7) Revlon ColorStay Liquid Foundation in Nude @ SGD21.58 (Originally SGD29.90)
8) Maybelline Volum'Express Ultracomb @ SGD15.90 (Originally 19.90)
9) Bourjois Express Eye Makeup Remover (waterproof makeup) @ SGD12.20 (Originally SGD16.90)
10) Bourjois Metallic Eyeliner in Purple @ SGD11.40 (Originally 15.80)
11) Bourjois Metallic Eyeliner in Grey @ SGD11.40 (Originally 15.80)
Did you attend the event? Let me know what have you gotten!!
Cheerios~
FS.Rain