YES!!!
As the title of this entry says, I shall be coming up with a series of Mini Reviews!!
To start it off, I shall focus on one of my Daily-Must-Have Products >> MASCARA!!!
These are the current bunch of mascara that I am using, trying my best to use a different one each day every week, especially for my past weeks and months of Look-of-the-Day entries.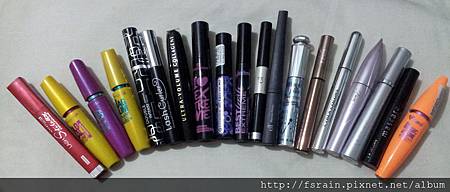 ** I left out 1 mascara in this Family-Shot... it was my NYX Doll Eye Mascara ~.~ **
Keep coming back or simply subscribe to RSS to receive updates of my Mini-Reviews that's definitely coming your way!!!
Cheerios
FS.Rain