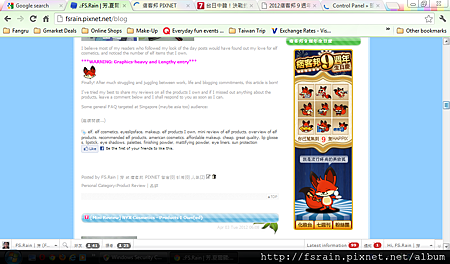 找了好久,我終於找到了那9只玩皮愛躲的HAPPIX了!!耶~!!
雖然尋找時非常的興奮又期待,但還是覺得若時提示可以不要在我的鼠標移過時翻卡,讓我有多一點時間重複讀一篇因該會讓我更早找到這9只小壞蛋了
After sooooooo many days, I've finally found all the 9 different HAPPIX which are hidding everywhere!!
My only complain is that the tips provided on the cards are like... difficult to read. Coz whenever you mouse-over it, the card flips.. and you can't see the tips anymore.
I really hope that I'll win something from this event, it's really fun searching high and low for all the 9 little HAPPIX monsters!
Thank you Pixnet!! It's a very enjoyable event!
Cheerios
FS.Rain|芳.夏爾颸