Hi Everyone~
Finally, I have something apart from reviews and LOTD to share with you, it's gonna be what I do on a daily basis to "upkeep" my face (& neck too) and products which I'm using/used + my opinions on them. This will be more of a sharing on the routine, steps, how-to, than about the product itself.
I will post up separate reviews on the products for easy reference and access on the product information, functions, ingredients and etc.
So here goes my standard skincare routine at the end of each working day / a day out:
Step 1: |Makeup Removal|
I'm wearing makeup almost all days of the week, minimum 5 days as I wear makeup to work. Given that this is a daily affair and depending on how much makeup I have on and how difficult it is to remove the products, I am using quite a few different types of makeup removers concurrently: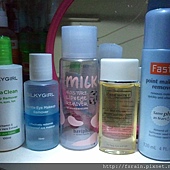 For Stubborn Makeup (waterproof mascara/eyeliner/face/lips)
a) Bio-essence Bio-Hydra Water Soluble Olive Cleansing Oil





b) Maybelline Makeup Remover
c) Fasio Point Makeup Remover


For Normal Makeup (non-waterproof eye, face and lips)
a) Baviphat Milky Makeup Remover




b) SilkyGirl Gentle Eye Makeup Remover (dual phase)




c) SilkyGirl Hydra Clean Makeup Remover




d) Baby Wipes / Wet Wipes (for initial removal of face products i.e. foundation, BB Cream, powder etc)
Other recommended Makeup Remover: FANCL Mild Cleansing Oil (even for the most stubborn waterproof makeup)



Step 2: |Cleansing|
After I'm done with removing the makeup using makeup removers, I will ensure that my face (and neck) is thoroughly cleansed before I proceed with Skin care. This step ensures that the skin is absolutely clean and pores are unblocked to ensure proper absorption of skin care products to be used later.
Normal Daily Cleansing (Combination Skin)
a) Bio-essence Bird's Nest Nutri-Collagen & Whitening Cleanser





b) Other Cleansing Foam which I used previously and recommended:
TheFaceShop Aloe / Lemon Cleansing Foam
Nature Republic Cleansing Foam (various types)

Clean & Clear Daily Pore Cleansing Foam (with micro srub suitable for daily use)

Exfoliation - To remove dead skin cells (once / twice weekly)





a) Ginvera Green Tea Whitening Marvel Gel - to be used before cleansing with facial foam but after makeup removed
b) Watsons Collagen Peeling Gel - Function similarly to Ginvera Marvel Gel, gently exfoliate and remove surface dead skin cells
c) Facial Scrub (any brand) - when using this, not using facial foam
d) Peel-off Mask (any brand) - to use after facial foam before skin care products
Step 3: |Skin Care|
Once you've thoroughly cleansed your face, these are the items which will be used in the actual sequence:

a) Toner
Ginvera Green Tea Whitening & Refining Fluid: usually used at night or when skin is feeling very dry)

Daiso Coenzyme Q10 Toner: sometimes used right after makeup removal if I dun intend to wash my face right after, or it is used before putting on makeup to remove excess oil/shine

Other Toners which I've used before & will recommend:
- LFI Laboratory Skincare Series Toner
- Watsons Collagen Toner
- Garnier PureActive Toner/Astringent
Bio-essence 24K Bio-Gold Anti-Dark Circles Essence with Bird's Nest Essence: usually used at night
Ginvera Amethystory Eye Contour Brightening Amethyst Roller: used in the morning before putting on makeup (eye primer)
Neutrogena Hydro Boost Water Gel: used at night all over the face and neck, sometimes in the day before putting on makeup when the skin is feeling very dry
Ginvera Green Tea Aqua Whitening Cream with Oil Control: used in the day before makeup
Daiso Hyaluro Facial Mist: occasionally used before makeup to moisten/refresh the skin. It is also used after makeup to set it.
Ginvera Intensive Whitening & Spot Corrector: using this for my sun spots and uneven toned patches
Other Moisturizer / Serum used previously:
- The Skin Food Egg White Pore Serum (U-zone and T-zone)
- Daiso Deep H Moisture Gel: More affordable than Hada Labo, absorbs fast but leaves a slight "tacky" feeling/film on face
- Daiso Marine Lotion A: Hydrating and does not leave a "sticky" feeling once products are absorbed. Love to have this under makeup
- LFI Laboratory Skin Care Series Serum: VERY Hydrating!!

c) Mask (used currently/previously)
I'll try to apply mask minimum once a week to nourish and pamper my skin and keep its moisture level balanced. When I uses masks










TheFaceShop (assorted 10pc pack): It used to carry pre-packed 10pieces set which targets at different skin type/to treat different problems. The masks are generally good, but I feel that for hydration, it wasn't very outstanding.
Nature Republic (assorted): Used a few pieces, also for its hydrating masks which are really good.
My Beauty Diary (assorted): Very affordable in Taiwan, now available in Singapore and one of those which I find has very good hydrating properties
O2 Skin Cooling Mask: Love the very Cooling effect it has on your skin. Very hydrating too.
Guardian Hydrating and Whitening Mask: Very hydratin and you're able to see the brightening effect right after each use. Did not really check if there is whitening effect as I am more concerned with its hydrating capabilities
Guardian Anti-Acne/Blemish Mask: SUPER Effective in reducing the swell of pimples/acnes and also aids in the recovery of popped pimples. However, I was not able to find it anymore and I think it must have been discontinued already. T-T
Daiso Masks: They have the sheet masks and also yoghurt packs which are quite good! I find them quite hydrating and the skin feels softer after use. For its price, highly recommends!
Sexy Look Masks: I got these from SaSa and they've been really good! Hydrating and some actually helps to brigten the skin tone right after use!
PS: I've bought quite a handful of masks from Guardian, Watsons and Sasa recently and yet tried them coz was trying to clear my current stock listed above. I will review these newly-purchased masks soon, probably in June.
I'm definitely gonna update this entry again with more photos of the products used/mentioned.
Let me know if you've got any questions regarding these products / where to get them etc..
PS: No matter how "imba" makeup can be, it is always the best to have healthy and beautiful skin. This way, makeup can be applied smoothly and enhances your features to new heights!
Cheerios
FS.Rain