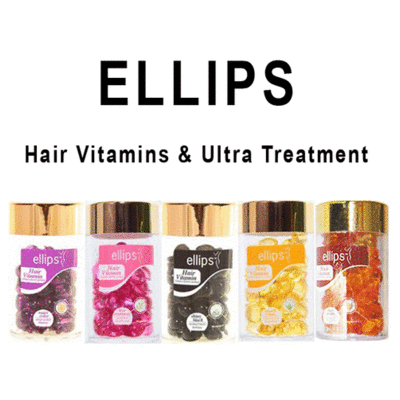 I bought a voucher from outlet.com.sg @ SGD104/- for Rebonding (Korean brand) using Hair Senze헤어센즈 + Colouring with Beaver + Cut + Wash + Blow + Treatment at Joe' Coiffure located at Far East Plaza (check out my review on their services here).

I used my voucher yesterday and turned myself into a red head. Its a deep purplish red but my fore front hair turns out to be more raging red.. Anyway, I washed my hair with my current shampoo - Pantene Moisturising Shampoo (love the honey dew fruity sweet scent!!) Which serves my frizzy dry hair well thus far.

However, with colouring and rebonding, it seems that my hair has gotten quite texturised post-chemically-treated.

So, I reached for my all time favourite leave-in treatment: Ellips Hair Vitamin, Hair Treatment capsules. This particular type is the hot pink capsules which indicates to help treat damaged hair to restore its smooth texture, moisturise and protect from thermal or uv damage. Its a capsule filled with various plant oil extract and packef with pro-vitamin B5 and many other goodness. 1 capsule is more than enough for my thick shoulder length hair. Under most circumstances, it should suffice as a solution for post-rebonding damage.

Seemingly, I forgot that I had colouring done too... It was not enough. So I reached for my other Ellips Hair Vitamin for Smooth & Shiny. With that, i've finally solve the problem.

To conclude, if you are looking for a good leave-in hair treatment/conditioner/hair care product for chemically treated hair, specifically just hair that undergone ONE treatment, get your hands on this hot pink capsules from Ellips!

Its sold in Watsons, Guardian and many other supermarts, beauty chains and even neighbourhood shops. It comes in a bottle of 50 capsules or 6 capsules travel pack.
I've also found it selling on Qoo10/Gmarket and here are 2 of the links I found:
I strongly recommend the PINK capsules! Smells great! Works GREAT!!

I'll update on the price range later, but i'll tell you that I got mine in Batam, Indonesia as it was real cheap! Xp

Try it!

Let me know if you like it too~

Cheerios
FS.Rain