First of all, a quick sharing of the products used:
Eyes
- Jordana Eye Primer
- Jordana Best Lash Extreme Volumizing Mascara
- 180 Eye shadow Palette from The Mimosa Garden (official site here)
- 72 Glitter Eye shadow Palette from AngelinaJoyce (I think they have closed shop.. IF you are keen to buy this palette, either checkout The Mimosa Garden / Coastal Scents)






Lips
- Cellio Lipstick in #18 Sweet Brown



Face
- ZA Compact Powder
- elf Healthy Glow Bronzing Powder in Sun Kissed





It is not necessary to use the exact same products as listed above, just use whatever you have on-hand to match the colour tone/function. If you don't really like RED, use another colour which you prefer~
Let's start!

Step 1: Apply an eye primer / eye shadow base
This will ensure that your eye makeup stay-on till you want to take it off.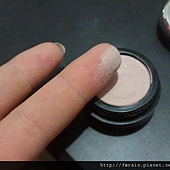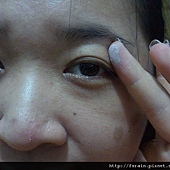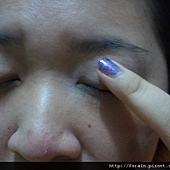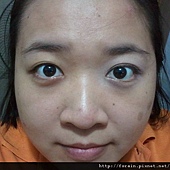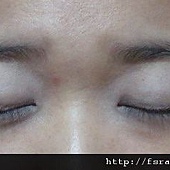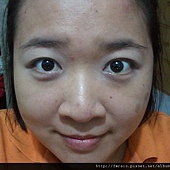 IF your eye shadow base / primer has a watery texture, wait for it to dry before going to Step 2.

Step 2: Colour your eyes - RED
Apply the red shadow on your lids, be careful not to go too high that your entire lid is covered with the eye shadow.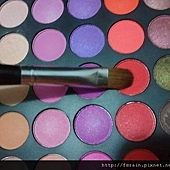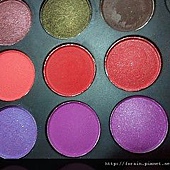 Basically, leave a minimum of approximately 1 cm of space below your brows and the eye shadow colour.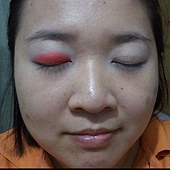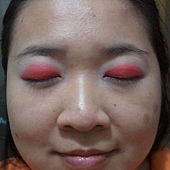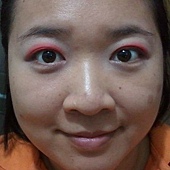 Step 3: Apply a similar tone glitter on top of the 1st colour by padding it on using a flat brush.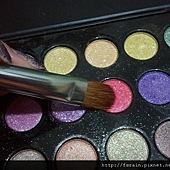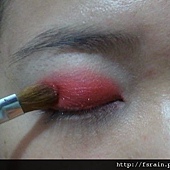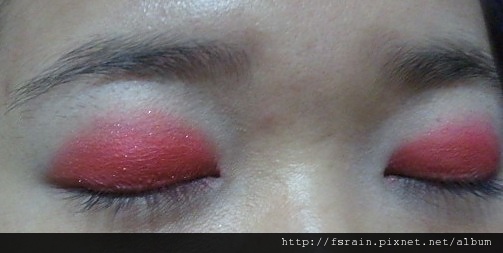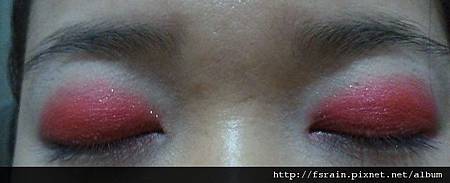 If you are using glitter powder, wet your brush before you pick up the glitters. Or you may apply abit of eye lash glue / glitter adhesive on your lids before applying the glitters.

Note: If you are using very powdery glitters, it is best for you to apply your foundation after you are done with your eyes.

Step 4: Create a gradient of colour
Pick a shade that is 2-3 times lighter than your 1st colour, and apply it along the edge of the base colour which is already on your lids.



With light pressure & a sweeping motion, blend the lighter colour along the edge of the 1st shade and slightly above the edge, moving closer towards the brows.







BUT, leave at least 0.5cm of space below your brows for the next step.

Step 5: Highlighting Brow Bone
Grab some white colour or a colour that is 1-2 shade lighter than your skin tone and apply it right under your eyebrows with a fluffy brush / the same flat brush at perpendicular angle.








Step 6: Line your eyes / Frame-up your eyes
This step is to deepen + enlarge your eyes using a black/dark eye shadow or eyeliner. If you are not comfortable with doing this, you can proceed to the next step.



Use flat angle brush / tiny brush / eye liner brush, pick up some black eye shadow(dark brown or any dark shade you prefer) and "brush" it right below and along your upper lashes, all the way from the inner corner to outer corner of your eye.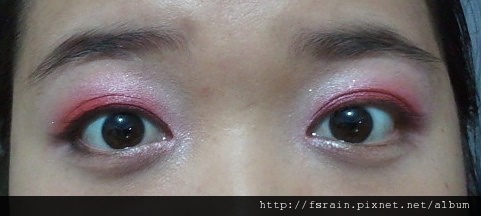 Then for the lower lash line, stop at about the corner where your iris is. Alternatively, u can simply use your preferred dark shade eyeliner to frame up your eyes.




Step 7: Beautify your Lashes
Curl your lashes and apply your favourite mascara! You may wish to apply false lashes for a more dramatic / dreamy look (depending on the type of falsies used).






The eyes are finally done!

Step 8a: Cheeks - Contouring
As I'm on the wider side in terms of the size of my face (and physique), I will now use a bronzer (it will be better if you have a matte bronzer or contour powder) to "slim down" the looks of my face. If you don't have a bronzer, use a darker shade face powder or even a matte brown eye/brow shadow.




Contour by brushing the bronzer from my around the area top of my ears in a downward slanting curve movement towards the "hollow" below the apple of my cheeks.

Step 8b: Create a prominent Jawline - "Slimmer face"
Using the same bronzer, apply the powder from right below your ear where your jaw "ends" and brush it all the way under your chin.




The trick is to outline your jawline & chin with a darker shade to create a more prominent frame for your face and thus "slimming it down".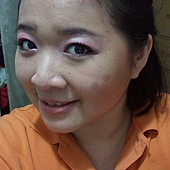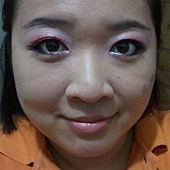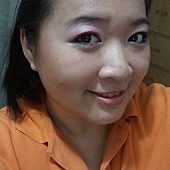 Step 8c: Cheeks - Blusher
Although I skipped this step due to some unknown reason, you may wish apply blusher to the apple of your cheeks. For this look where the eye makeup is red, I suggest to use a light pink, or any light peachy or mauvey tone blush.

Step 9: Lips
Choose a peach tone or nudy pink / beige lipstick or gloss and apply it to your lips. As it is a light colour, you need not use a lip liner unless your lip colour runs easily or you want to have a more defined lips.





The look is now complete!
You may wanna recreate this look using another colour like purple, green or blue! Hahaha.. if you prefer a more natural look, use brown and perhaps beige / gold-tone glitter shadows.
Leave a comment and let me know if this helps!

Below are more shots of the final look in beauty shot mode (camera) and auto mode + different lighting for your reference. Note: All photos are taken under artificial lighting as this was done after the sun has set.