大家好!!
很稀有的一篇[今妝],很難得我決定以中文開頭! =)
17 OCT 2012:
今天所化的妝是比較少人會在上班日化的. 但我覺得阿,偶爾偶爾來個比較Happening,又繽紛燦爛加鮮豔的眼妝還是很不錯的一番滋味,也讓上班時的心情"新鮮"一點嘛!
Basically the office Makeup that I have today is rather not-in-the-norm, it's blue smokey right now!!
好吧, 讓我們看一看我說了那麼多卻還沒亮出來的照片吧:
Firstly, let's take a look at the photo for this look.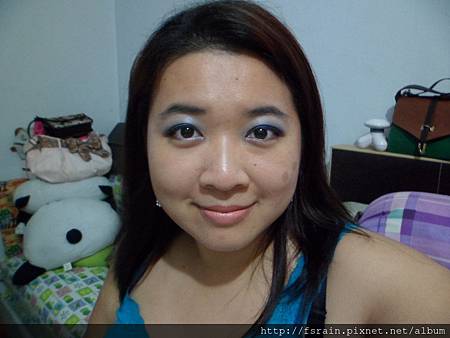 看吧,不會太過頭的那種煙勳也能用除了大地色系以外的藍色繪出.
You can choose more colours for a smokey-eye look, it is not compulsory or necessary to be all earthy colours or simply black-smokey.
Give your smokey-eye-look a revamp by doning it with vibrant colours such as blue, green, yellow and even RED! I might just consider to follow-up on this post with more coloured smokey-eyes!
接下來再多几張很"自豪"的近照啦~
Never feeling ashamed of being a cam whore... here we go~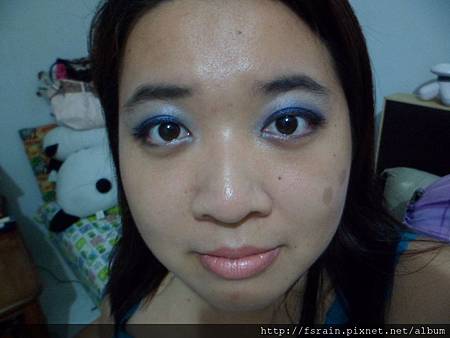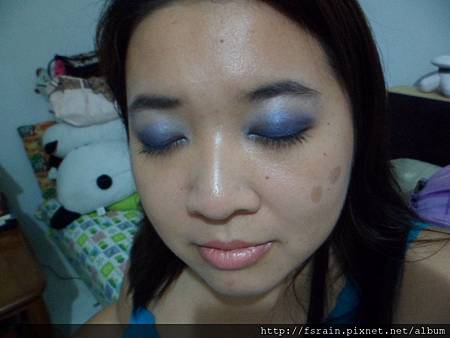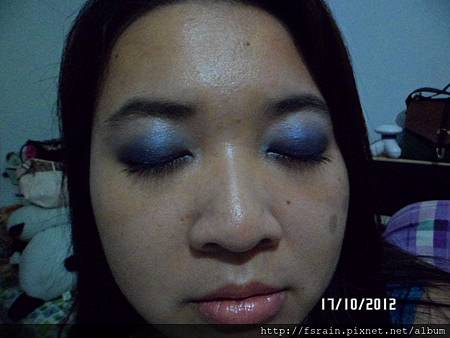 我知道...好像似乎有在"出油"的感覺... >.<
It was getting late and some signs of shine is emerging...
好了,終於到了分享使用的產品的時刻了,請接著往下看/讀:
Last but not least, I am showing you my makeup stash used for this look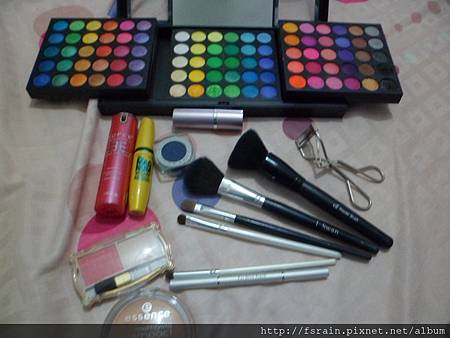 B
使用的工具及產品有:
- 180片眼影組 Eye Shadow Palette
- Cellio Lipstick 脣膏,Sweet Brown
- Skin79 Hot Pink BB Cream SPF 25 PA++
- Maybelline Volum'Express The Magnum Ultra Comb
- LOreal Infallible Color Eye Shadow, All Night Blue
- Daiso Cheek & Hi-Light
- essence Mattifying Compact Powder, 04 Perfect Beige
- Daiso Auto Eye Brow Pencil, Dark Brown
- elf Essential Crease Brush
- lf Essential Smudge Brush
- iSwan Blush Brush
- elf Studio Flat Top Powder Brush
- FANCL Eye Lash Curler


不只是這樣而已哦,還有試色與你分享呢!And here we've got the swatches!!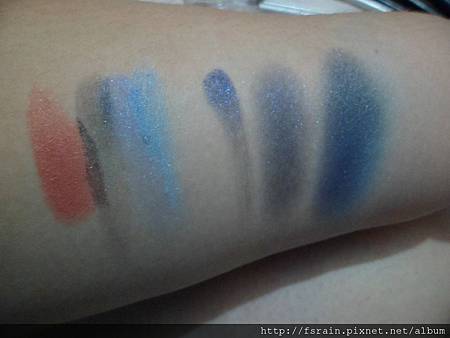 要知道試色是怎麼會是可觀看我的影片
To find out what are these swatches all about, check out the video at the top of the page if you haven't done so!
就寫到這裡了,下會見!
Cya in my next Look-Of-The-Day! Bye bye~

Cheerios
芳.夏爾颸 | FS.Rain