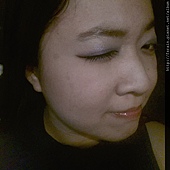 Yay!!!
Finally I am getting a post up on this blog after such a loooooonnnnnng time!
I should be getting a haul and some reviews up over this long weekend that we are having this week.
Now let's get back to business.
Today's look is inspired by my outfit which is a stylish semi-turtle neck sleeveless knit-top in my favourite shade of Blue.
Products used:
Face
- Missha M Signature Real Complete BB Cream SPF25 PA++
- Daiso Compact Face Powder
Brows
- Daiso Duo-ended Eye Brow Pencil, Dark Brown
Eyes
- L.A. Colors Jumbo Eye Pencil, Bikini Time (Base & smokes along crease)
- O2 Skin Loose Eye Shadow, Blue (main shadow)
- L'Oréal Curl Impact Collagene Mascara, Black
- Holika Holika Jewel-light Waterproof Eyeliner, Blue Lapis Lazulli
- Shimmery cream shadow in elf Brightening Eye Color quad, Teal Dream #2019 (brow bone highlight + smokey shade blending)
Lips
- Etude House Plumping Lip Tint, Red
Well well, this sort of more complicated and time-consuming looks have yet been revisited for quite awhile.
I am kinda in a more relaxed mood today as there's a long weekend that I could look forward to, hence the more willingness to spend a little more effort to doll up.
As much as I hoped for my special someone to appreciate my make up... he seems oblivious. ... sigh...
Glad that most of the time my make up efforts were more due to my narcissism inclination than any intentions to attract.. I'm happy to simply create a look that I adore. What about you?
Cheerios
FS.Rain