I wasn't feeling well... Negativity in thoughts, feelings of anxiety washed over me... A change of thought led me to the library: get some materials for my research, seek some peace and quiet time, it might ease the tensions and aggravation.
Passed a shelf and this book caught my eyes, my hand reached for it and brought it with me. After getting the resources that I need, I decided to spend some time reading it.
That, was a quite a sight. I've been there before and seeing that photo spread across the first 2 pages this book brought me back into my memories of Borobudur instantly. That, clears up some of the negativity looming within me.
Flipping over to the next page, the following words caught my full attention:
"There is nothing permanent except change."
So here I go... Drifting into the lands of Buddhist thoughts & quotes contributed by many.
This book is published by White Star Publishers.
Subsequent picture uploads will feature the thoughts and quotes which resonates with my beliefs, and / or, what I wish to share with my loved ones, and also a reminder to self.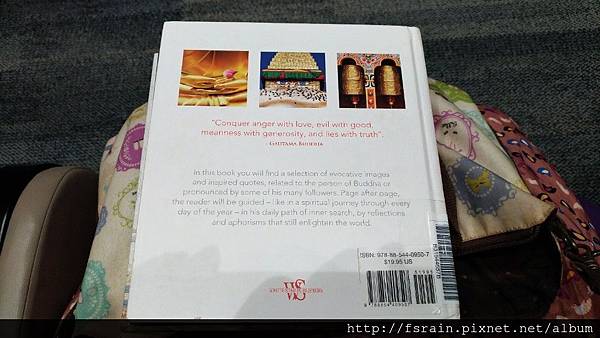 In every stage of life that we lived, we learned, and we moved on, we might have changed unknowingly or perhaps, willingly.
This, is still my virtual space dedicated to health and beauty, although the older I get, the more that I attest to the fact: Beauty is skin deep.
I hope to share more on the beauty of life and spiritual beliefs, too.
May everyone finds peace, love and happiness!
Cheerios
FS.Rain