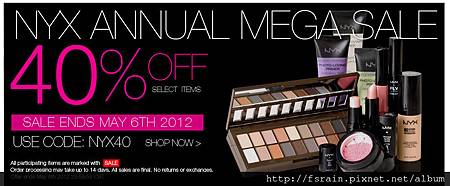 NYX cosmetics fans and all who wish to try NYX out!
Check out www.cherryculture.com now and get your NYX items with 40% off!!
Valid from now till 6 May 2012.
Definitely worth to check it out as they provide international shipping with various options. With the 40% off it definitely helps to buffer out alittle on your shipment fees.
I will be placing some orders, if you wish to join me, drop me a message.
FYI - I'm based in Singapore.
Happy Shopping~!
Cheerios
FS.Rain