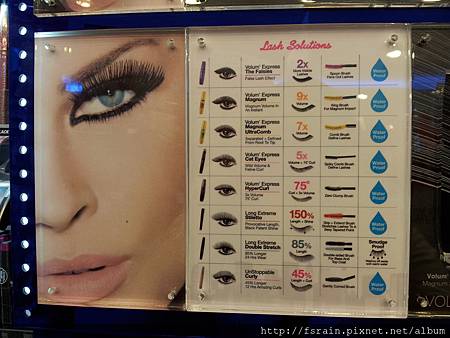 I chanced upon the above poster that listed all the mascaras by Maybelline in Singapore!!
It was in the Watsons Store in Hougang Mall that I saw this and I guess it does give you a good summary of the different functions of each of the mascara.
Of which, I've used quite several of them and more or less the reviews for each mascara are already available.
To check out all the mascara reviews, browse through my Product Reviews or Mini Reviews.
Otherwise, below is a 1-2 liner on my thoughts for each of these mascara that I am using or used before.
1) Maybelline Volum'Express The Falsies 
FS.芳﹔ I think that this does not give you the false lash effect UNLESS you have very thick / lots of lashes, then with the coating of this mascara, you'll be able to achieve the falsies effect. Otherwise, I think that it does live up to its claim of giving you 2X more visible lashes.
2) Maybelline Volum'Express The Magnum (Colossol) / Magnum Super Film / The Colossol Diamonds (Limited Edition)
FS.芳﹔ I have yet to use the Magnum as I got it after The Colossol Diamonds which I absolutely love to use whenever I crave for soft, fluttery and voluminous lashes! The only thing I wished could be better for the Colossol Diamonds is to have it in waterproof and for the formular to be slightly less-wet. Definitely does what it claims on Magnum Volume in an Instant.. whether it is 9X... depending on the volume of your lashes. If you have naturally sparsed lashes, I think it will give it more volume up to 4X of your natural lashes.
3) Maybelline Volum'Express The Magnum UltraComb
FS.芳﹔ This is quite an interesting mascara because of the design of the mascara wand/applicator. It's shaped like a flat-crescent-shaped comb made from plastic/rubber with bristles only at the tip of the comb. Thus far I am able to create lash effect that's very defined and separated, almost doll-eye-look and looks more volumized than without. Perhaps hitting about 2-3X volume. I highly recommend this for application on lower lashes as the comb can reach thin, short and sparsely grown lashes well. Doesn't smudge/budge as it is waterproof!
4) Maybelline Volum'Express Cat Eyes
FS.芳﹔ I own this during the period from 2009 to 2010, and at that point of time I LOVE this very much! This was used ALMOST EVERYDAY! Coz when I finally gathered up courage to attempt putting on makeup, this was the mascara I bought and lucky me do I love how it applies (uniquely shaped plastic applicator). It helps to define and volumize mylashes and the lengthening effect on mine was amazing! Definitely helps to lengthen and volume up the outer lashes and enhance the cat-eye look!
5) Maybelline Volum'Express HyperCurl
FS.芳﹔ I have not used this before.. but I think I'll be buying it very soon.. coz my other Maybelline mascara might be drying up already
6) Maybelline Long Extreme Lash Stiletto / Lash Stiletto Voluptuous Sequins (Limited Edition)
FS.芳﹔ I own the Lash Stiletto Voluptuous Sequins and I like the shape of the brush which allows for easier application for the outer corner lashes, but I don't fancy the awful scent of the mascara I own. The thing about this is that it has very subtle/fine sparkles thus creating the slight glittery/shimmery look on your lashes!
7) Maybelline Long Extreme Double Stretch
FS.芳﹔ Never used this before... will lay my hands on them once my current stash dry-out / get used-up.
8) Maybelline UnStoppable Curly
FS.芳﹔ Before I bought the Volum'Express Cat Eyes mascara, this was my long time favourite! It seriously lengthens my super straight and downward lashes and keeps it curled ALL DAY LONG!! Highly recommended if you want long and curled lashes!
That's all I've got to share with y'all~
Have a great weekend with happy shopping!!
Cheerios
FS.Rain